Sator Private Equity Fund aims at creating value by pursuing restructuring and turnaround opportunities in Italy, with a particular focus on the financial services sector.
Fratelli Puri Negri Sapa: Family Holding Company of Carlo Alessandro Puri Negri, Chairman of the Board of Directors of Sator SGR.
 "Cassa Nazionale del Notariato", is a non-profit organization that manages the pension fund for the Italian Public Notaries.
As a result of the acquisition and subsequent merger of Aedes SGR on April 6, 2017, Unodueerre (a wholly owned company by Giuseppe Roveda) has acquired a stake in Sator Immobiliare.
The Board of Directors includes 7 members, including two independent directors.
 Chairman: Carlo Alessandro Puri Negri
 CEO: Paolo Rella
 Board Members: Giacomo Garbuglia, Andrea Biasco, Giuseppe Roveda, Giuseppe Gallo and Claudio Recchi, independent directors.
The Board of Statutory Auditors consists of 3 members:
 President: Giorgio Amato,
 Auditors: Mauro Zanin and Paolo Salvaderi
The tasks of the Audit Committee ex d.lgs. 231/2001 are attributed to the Board Statutory Auditors. For any communication and reporting to the Audit Committee please refer to organismodivigilanza231satorsgr@satorgroup.com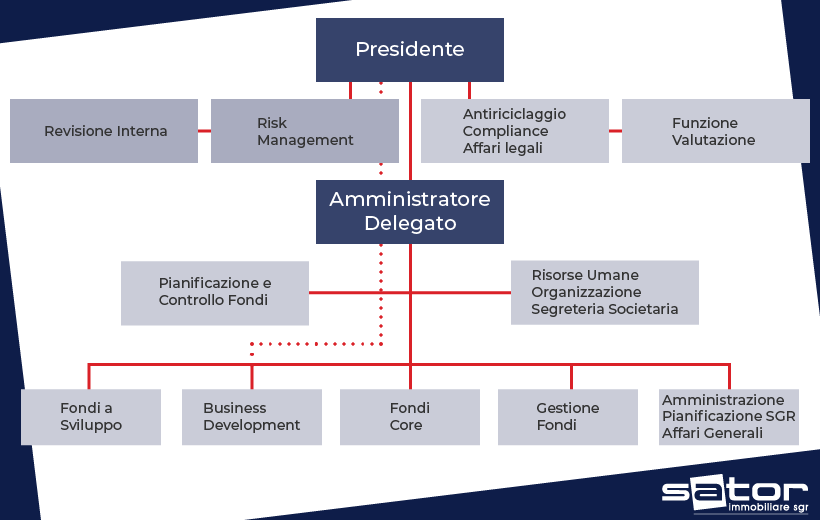 Carlo Alessandro Puri Negri
Carlo Alessandro Puri Negri is Chairman of the Board of Directors and shareholder of: FPN S.a.p.a. (the holding of the Puri Negri family), Sator SGR and Sacra S.p.A. (an Agricultural Property Company); member of the BoD of AON ITALIA (insurance) and Banca Profilo. Lastly, he is a member of the board of Assonime (Association between Italian S.p.A.).
He currently holds the position of Chairman of the Board of Directors of Aedes SIIQ S.p.A. (a Real Estate company listed in 1924) and of its Parent company Augusto S.p.A. Previously, he was in the Pirelli Group for over 20 years, where between 1988 and 2010 he was founder, CEO and shareholder of Pirelli RE (formerly Milano Centrale), General partner and subsequently (after being transformed into an S.p.A.) Deputy Chairman of Pirelli & C. S.p.A. (moreover the parent company of Pirelli RE).
He was also member of Board of Directors of various Companies and Foundations. He is a member of the International Real Estate Advisory Board at Harvard University.
Paolo Rella
Paolo Rella is member of Sator SpA and CEO of Sator SGR since its establishment in 2008.
Former Head of the Operations Division at Capitalia S.p.A., responsible for real estate and facility management activities, managing the carve‐out of real estate properties from the Group's commercial banks to the holding company.
He was board member of Bipop‐Carire, General Broker Service S.p.A., Iniziative Immobiliari S.p.A. , member of the Committee of Consorzio ABI Acquisti, Chairman of Capitalia Solutions S.p.A. and Bernini Immobiliare S.p.A..
Before joining Capitalia, he launched and managed the costs rationalisation program of the General Affairs Division of Consip S.p.A.
later becoming Responsible of the Purchasing Network of the Public Administrations (PAs), launching and managing the costs rationalisation program of the PAs purchases of goods and services.
Pierpaolo Mazzella
Responsabile dell'Area Gestione
É stato in precedenza  il Direttore Generale di Aedes SGR S.p.A. da maggio 2015. Dal 2006 al 2015, sempre in Aedes SGR, come Direttore dell'area Pianificazione Finanza e Controllo e come Direttore Fund Manager ha maturato una lunga esperienza nelle attività: sviluppo, strutturazione e gestione di fondi immobiliari; Asset e Fund Management; investimento e disinvestimento; gestione della società.
Simone Petrosemolo
è Responsabile della Funzione Compliance, Antiriciclaggio e Affari Legali di Sator Immobiliare SGR S.p.A.. In precedenza ha maturato una significativa esperienza nella consulenza legale in Gianni, Origoni, Grippo & Partners e nello Studio Legale Carbonetti e Associati, dove ha ricoperto il ruolo di Associate e Senior Associate nel settore della gestione collettiva del risparmio, dei servizi di investimento, del diritto societario e dei mercati finanziari.
Simone Roati
Simone Roati is the CFO of Sator SGR.
From 2002 to 2015, he gained significant experience in EY where he was in charge of auditing activities for financial institutions with particular focus on Tier 1 asset management companies operating in the Real Estate sector.
He also participated in various activities such as Accounting Due Diligence, IPO transactions, changes in accounting principles (transition to IFRSs), regulatory changes (UCITS, AIFMD).